В ГУМе открылся pop-up store Paul Smith
Открытие Adidas Pop-up Store в Podium market
Полная линейка беговых спортивных товаров Adidas уже доступна в магазине по адресу Охотный ряд , 2. Подробности на интернет-портале FASHIONPEOPLE.RU
Adidas и Podium market открыли уникальный беговой Pop-Up Store в одном из магазинов Podium market, который находится по адресу Охотный ряд, дом 2, ТГ «Модный сезон». Это событие ознаменовало старт сотрудничества компаний в преддверии благотворительной гонки «Бегущие сердца», которая состоится 16 мая 2015 года в Парке Горького. Ее организаторами выступают Полина Киценко и Наталья Водянова, тогда как Adidas является генеральным спонсором и партнёром мероприятия.
Adidas Pop-up Store в Podium Market создан специально для тех, кто любит бег и хочет выглядеть стильно в новом беговом сезоне, не теряя при этом чувство комфорта и функциональность.
В магазине представлены самые последние беговые новинки как для женщин, так и для мужчин, среди которых знаменитые Adizero Adios – самые быстрые кроссовки в мире, на счету которых 27 побед в соревнованиях международного класса, и Ultra Boost – беговые кроссовки последнего поколения, выполненные из материала Adidas Primeknit, обеспечивающего максимальный уровень комфорта для стопы в любом положении. Они приспосабливаются к шагу бегуна, гарантируя неповторимый возврат энергии, непревзойдённую поддержку стопы и адаптивный комфорт на протяжении многих километров и при любых условиях.
Только в Adidas Pop-up Store в Podium market в скором времени будет представлена эксклюзивная модель кроссовок, которая была создана при участии знаменитой российской супермодели, актрисы и филантропа Натальи Водяновой. У Supernova glide Boost женственный силуэт, стильный дизайн и аккуратная посадка, зрительно уменьшающая ногу. Эти кроссовки идеально дополнят спортивный образ любой девушки, а амортизирующая технология Boost зарядит обладательницу энергией бега. Кроме того, все средства от продаж этой лимитированной серии будут переданы в благотворительный фонд Натальи Водяновой «Обнаженные сердца».
Кроме того, в магазине можно собрать полный образ из вещих последних коллекций Adidas ClimaChill и Adidas StellaSport. Коллекция Climachill – это новое поколение экипировки с системой активного охлаждения. Передовой материал, использованный при создании экипировки, отводит тепло и влагу, помогая ткани быстрее охлаждаться и высыхать, а спортсмену — сосредоточиться на тренировке. Лицом ClimaChill в России является прославленная фигуристка, Чемпионка Олимпийских игр «Сочи 2014» Юлия Липницкая.
Коллекция одежды Adidas StellaSport – это уникальный стиль Стеллы Маккартни, передовые технологии и изящные силуэты. Комбинируя вещи из коллекции, юные девушки смогут создавать одновременно и повседневные, и спортивные образы, которые будут притягивать к себе взгляд и в спортивном зале, и на улицах города. Линейка включает в себя полный ассортимент одежды, обуви и аксессуаров, которые могут понадобиться молодым, следящим за последними модными тенденциями девушкам. Это спортивные сумки, худи с выразительными принтами, смелые силуэты комбинезонов и купальники ярких цветов. А материал climaliteТМ гарантирует покупательницам высочайший уровень комфорта.
Источник: www.fashionpeople.ru
Adidas
Преврати мир в свою спортивную площадку с помощью ярких и динамичных принтов.
Adidas byStellaMcCartney представляет кроссовки ParleyUltraBOOST X, созданные для совершенных пробежек и меняющие планету к лучшему. Новинка будет эксклюзивно представлена в нескольких магазинах adidas.
В ГУМе открылся pop-up store Paul Smith
308 элементы, содержащие слова и выражения ЦУМ в Новости, Тенденции, Видео, фотогалереи, Календарь по «убывающей дате».
По прогнозам консалтинговой компании Bain & Co., впервые в истории исследований продажи люкса снизятся более чем на 20%. Начиная с 1996 года, среднегодовой рост рынка категории «персональный люкс» составлял 6%
24 апреля состоится международная конференция по онлайн-ритейлу IDRF'2020. Мероприятие объединит представителей брендов, маркетплейсов и ритейлеров. Ключевая тема конференции: "Онлайн-ритейл — это новая реальность"
Мы поговорили со Стефаном де Хайнрих де Оморовица, соучредителем премиального косметического бренда Omorovicza, о развитии на российском рынке, современном покупателе и микроинфлюенсерах
В среду, 5 февраля 2020 года, московский ЦУМ сообщил о кадровых перестановках в универмаге. С февраля прекращено сотрудничество с Натальей Гольденберг, занимавшей пост креативного директора ЦУМа
По данным консалтинговой компании Colliers International, помимо российской столицы в списке наиболее перспективных рынков для развития ритейла в 2020 году Дубай, Майами, Шанхай и Токио
Британский парфюмерный дом Penhaligon's анонсировал начало работы с крупнейшей в России парфюмерно-косметической сетью «Л`Этуаль». Ранее ароматы дома со 150-летней историей были представлены в избранных локациях
В январе на первом этаже московского ЦУМа открылся корнер французского косметического бренда Filorga, с прошлого года принадлежащий Colgate-Palmolive. В ассортименте корнера представлена широкий ассортимент продуктов
Как правило, ритейлеры предпочитали дебютировать в крупных топовых торговых центрах Москвы. Пять брендов открыли свои первые точки в формате корнеров в ЦУМе и Универмаге «Цветной»
В марте 2020 года розничный магазин американского бренда The North Face появится в Санкт-Петербурге в ТРК «Галерея», узнали «Ведомости». Развитием сети на российском рынке займется Inventive Retail Group
News + Events
Planning for the New Public Realm
Remote learning has inspired a dynamic revamp of a core Landscape Architecture studio—and a heightened sense of mission.
News highlights
Structure, Balance and Support
Ceramics Department Head Katy Schimert earns awards from both the Guggenheim and the Joan Mitchell foundations.
Teaching Across Time Zones
Industrial Design sophomores are tuning in from around the world for Matthew Bird's popular course on the history of everything.
Pivoting to Fight the Pandemic
RISD makers are helping to address the nationwide shortage of personal protective equipment.
Adapting with Ingenuity
Connecting from home this spring, Graphic Design students and faculty are rethinking what—and how—they make.
Deep Ecology for the Very Long Term
With Redwood Preserve, Jarrett Mellenbruch offers an audacious vision for how art should shape the future.
New Zealand Adventure Travel Guide
Описание
Upload the Scribd version here.
Or buy the new Pocket Adventures version of this book (548 pages) at http://www.hunterpublishing.com/index.cfm?Bookid=1-58843-597-0.
Or you can find a Kindle ebook version of this guide at http://www.amazon.com/New-Zealand-Pocket-Adventures/dp/B001OW5RSS/ref=sr_1_1?ie=UTF8&s=books&qid=1234625157&sr=1-1.
Written by a native New Zealander, this guide covers every region and town, with in-depth information on the Maori culture, the remarkable places to stay and eat, vineyard tours, cooking schools, thermal springs, albatross and whale encounters, scenic drives, and more. Canoe the Whanganui River, ride in a hot air balloon, hike the Waikaremoana Track, explore Whirikana Forest Park, take a glacier tour. There s even a section on how to talk Kiwi English!
«The book is great. I love the www references, the personal touches and for me the descriptions and comments make me feel like I am already there.» —
Richard Hart
«An activity guide packed with detail on everything from horseback riding and camping to fishing, cruising, hiking and more. Chapters are organized regionally and make it easy to look up local accommodations and eateries, inland and water adventures, and even small local maps for quick consultation.» — Midwest Book Review
Trump's shock troops: Who are the 'alt-right'?
Share this with
These are external links and will open in a new window
These are external links and will open in a new window
Close share panel
A disparate group of provocateurs is challenging conservative orthodoxy from the right. They hate political correctness and love Donald Trump — but their critics say they're nothing but bigoted white nationalists.
There was a moment when the phrase «alt-right» first started to get real traction in the mainstream media.
It began with a tweet by US Republican presidential nominee Donald Trump. It showed an image of his opponent, Hillary Clinton, alongside a six-pointed star containing the words: «Most Corrupt Candidate Ever!»
It wasn't long before Trump's critics zeroed in on the six-pointed star — said to resemble a Star of David — and the pile of money. They immediately accused the Republican nominee of using dog-whistle tactics, playing on old stereotypes about Jews, money, and corruption.
The candidate himself denied the allegations — although he deleted the tweet, later reposting the image with a circle replacing the star.
Anthony Smith, a journalist for the website Mic, got a tip that the image had appeared on 8chan, an extreme message board with many users who self-identify as members of the alt-right movement.
At first Smith was sceptical that he'd be able to stand the story up. The message board is fast-moving, threads get deleted quickly, and it's difficult to search for and find images. But within an hour, he had his answer.
«Sure enough I found it, and I was able to confirm that it was on this board before it was on Trump's Twitter feed,» he says.
Smith's story was picked up by the BBC and other news outlets, and many picked up on the link between the image and the amorphous movement known as the alt-right. But what is it, what do its members believe, and what influence are they having on mainstream politics?
As a disparate, mostly online phenomenon that lacks a cohesive structure or any sort of central organisation, it's tough to pin down. But observers of the movement — both critics and supporters — agree on a few things.
The alt-right is against political correctness and feminism. It's nationalist, tribalist and anti-establishment. Its followers are fond of internet pranks and using provocative, often grossly offensive messages to goad their enemies on both the right and the left. And many of them are huge supporters of Donald Trump.
The Briefing Room on Radio 4
Hear more about the alt-right on The Briefing Room — you can download the podcast here.
In a speech last night, Hillary Clinton lambasted Trump for his ties to what she called the «emerging racist ideology known as the alt-right» and said her rival was «helping a radical fringe take over the Republican Party».
Iain Davis, who lives in Surrey and runs several alt-right social media accounts, says the movement includes a whole range of people, from libertarians, men's rights activists, Christians and traditionalists — as well as neo-nazis.
«There's all these ideas happening in there,» says Davis. «This community works over multiple different social media platforms and networks, and there are all sorts of figures and faces involved in it.»
They can be particularly vicious towards their perceived enemies. According to Time magazine «trolling has become the main tool of the alt-right». They pejoratively call liberals «social justice warriors» or SJWs, and establishment conservatives are dubbed «cuckservatives» — a portmanteau that the Southern Poverty Law Centre says refers to «cuckolding», a racially-charged genre of pornography.
Davis says his opposition to immigration from Muslim countries drew him into the movement, and he is an enthusiastic participant in many online spats.
«SJWs will ostracise you, they are very happy to call you 'racist' in their own tight definition of the word, find out where you live, find out who you work for, and make sure your employer gets you fired,» he says.
«We are very interested in seeing this kind of behaviour ended. That's one of the things that I like about the alt-right, we are responding to this online bullying, even though we get accused of this online bullying ourselves.»
As a nebulous movement, exact numbers are hard to come by, but Smith, the journalist, traces the alt-right to a speech given by an obscure right-wing philosopher, Paul Gottfried, shortly after the election of Barack Obama in 2008.
In it, Gottfried called for «an independent intellectual Right, one that exists without movement establishment funding» and declared: «Our group is also full of young thinkers and activists, and if there is to be an independent Right, our group will have to become its leaders.»
«At its core it identified black radicalism, radical feminists, open borders activists, these are the enemies, the enemy is progressive society, the enemy is political correctness,» Smith says. «From there in the wake of America electing its first black president, all of a sudden you see these people rising from the shadows and organising in a way they haven't organised before.»
Perhaps Gottfried did not imagine that his idea would be taken up by a merry band of social-media savvy pranksters. One of the alt-right's figureheads today is Milo Yiannopoulos, technology editor for the website Breitbart. Yiannopoulos is a huge fan of provocation — he hosted a somewhat controversial event at the Republican National Convention and recently made the news for getting banned from Twitter after he was accused of orchestrating abuse directed at Ghostbusters actor Leslie Jones.
In a guide to the alt-right that he co-authored with Allum Bokhari, Yiannopoulos detailed the movement's factions, including «intellectuals», «natural conservatives» and «the meme team», mostly young activists with a penchant for trolling.
Yiannopoulos acknowledges that the alt-right has attracted some out-and-out racists — but he denies that this is a main theme of the movement's political philosophy. White supremacists are a marginal force, he argues, and culture and specifically Western civilisation, he insists, are the key motivators for the group.
«The real racists… are very serious, are deep into studies and data attempting to prove that some races are smarter than other races — they're really dorky,» he says.
Yiannopoulos and other commentators on the alt-right consistently attack the sort of «identity politics» that they say are perpetuated by liberals.
«If the left insists on breaking people up like this, then yeah, why can't white guys say, you know what, we did most of the good stuff in the world.»
But critics point out the contradiction in this approach.
«So the answer is to replicate that (racial) obsession and extend it to white people? That's ridiculous,» says Cathy Young, a libertarian columnist and writer. «The alt-right is going to alienate a lot of reasonable critics of political correctness who are going to see the anti-PC rebellion as associated with these white-identity people.»
Oliver Lee Bateman is a freelance journalist, and in the course of writing for Vice Magazine he got to know two dozen or so alt-right activists in the US. From that sample, he developed a rough profile of alt-right activists.
«They're college students who might be bright but don't feel like they fit in or they feel like they've been put upon,» he says. «If they're in their 30s, they feel like the country is changing or they're losing their country. They're often people who work completely boring bureaucratic or programming jobs. They don't want to put their names or faces out there.
«I quickly realised that the folks I was talking to were among the most articulate and educated in this group. But there's a level below them, they're running these gross hate group pages,» Bateman says.
«And when Trump came along and began saying things like I'm going to build a wall, or that Saddam Hussein was a good guy, he killed terrorists, they liked that.»
The movement has branches in other countries too, including the UK, albeit on a smaller scale.
«It's nowhere near as big as the American scene,» says Iain Davis. «And I'm not surprised, because we are the nation that fought fascism, we pride ourselves on the fact we went and bashed Hitler. And it's [the alt-right] always going to be associated with a National Socialist element, when in truth we're closer to the kind of conservatism that was around 30 or 40 years ago.»
The movement has gained attention in parallel with Trump the politician — so the big question is, will it survive if Trump loses? Yiannopoulos argues the alt-right is bigger than one man.
«The vast majority of people in this movement believe in principle over ethnicity, freedom of speech, libertarianism and free intellectual inquiry. If the effect of Trump and the effect of the alt-right is to make the unsayable sayable again, wonderful.»
Orthodox conservatives will take heart from the victory of US House Speaker Paul Ryan over businessman Paul Nehlen by a wide margin in the Republican primary for the speaker's district. Ryan accused his opponent of belonging to the alt-right while attacking Nehlen's rhetoric as «dark, grim, indefensible».
But Trump's victory suggests the establishment have little room for complacency.
«The alt-right probably is here to stay,» says Young. «I think that after Trump, it may recede to a more marginal role.
«But after everything that's happened this year, I have completely given up on making any kind of predictions.»
ADDITIONAL PRESS MATERIALS
MGM Resorts International
Public Relations
111 East Harmon Ave.
Las Vegas, NV U.S.A 89109
702.891.1818 Main Office
702.891.1819 Fax
Press Releases
FASHION ICON PATRICIA FIELD HOSTS 2012 FASHION'S NIGHT OUT AT LAS VEGAS' CRYSTALS AT CITYCENTER
Do Good, Look Good: Score Latest Fall Fashions from Favorite Designers and Support Local Charities During FNO Celebration
LAS VEGAS (August 10, 2012) – Emmy Award-winning fashion visionary Patricia Field will bring her designer prowess to Las Vegas' Crystals at CityCenter to celebrate Fashion's Night Out (FNO) on Thursday, Sept. 6. The legendary stylist, renowned for her work with Sarah Jessica Parker in "Sex and the City" and Meryl Streep in "The Devil Wears Prada," will join top designers and local charities at the exquisite shopping and dining center for one of the largest fashion events Las Vegas has ever seen.
From 6 p.m. to 11 p.m., Crystals will offer unique in-store and destination-wide experiences, feature performances from Nevada Ballet Theatre and spotlight the hottest looks with models strolling the center dressed in the latest fall fashions. Crystals also will host celebrity stylist and designer Patricia Field's first fashion trends showcase in Las Vegas. Fashion's Night Out is a global initiative created in 2009 to put the fun back into fashion through dynamic events and partnerships.
Crystals invites FNO attendees to shop for a cause at their favorite designers with the second annual "Charity Crawl." Participating retailers will donate a percentage of sales to the local charity partner they have selected for the evening, which include:
• Assouline / Easter Seals Nevada
• Bottega Veneta / After-School All-Stars Las Vegas
• Brunello Cucinelli / The Pajama Program
• Dior / Jewish Federation of Las Vegas
• Donna Karan / United Way of Southern Nevada
• Fendi / Opportunity Village
• Jimmy Choo / Cleveland Clinic Lou Ruvo Center for Brain Health
• Kiki de Montparnasse / UC San Diego Nevada Cancer Institute
• Marni / Lied Discovery Children's Museum
• Paul Smith / Positively Arts Foundation
• Prada / Nathan Adelson Hospice
• Pucci / The Shade Tree Shelter
• Roberto Cavalli / The Public Education Foundation
• Stella McCartney / Nevada Ballet Theatre
• TAG Heuer / Keep Memory Alive
"This year's Fashion's Night Out celebration at Crystals is an incredible opportunity for Las Vegas locals and visitors to enjoy and learn about fashion while supporting a wide array of charitable causes," said Farid Matraki, senior vice president and general manager of Crystals. "We debuted the philanthropic element to Fashion's Night Out in 2011 with incredible success and are elated to introduce even more charity-designer partnerships this year."
Throughout the night, retailers will celebrate with in-store activities including cocktails and hors d'oeuvres, DJs, photo booths and more. Other festivities will include:
• Dream Racing Pit Stop – Take part in a luxury experience that will get your adrenaline pumping with 3D Ferrari racing simulators and fully suited driving professionals on hand to give first-hand racing advice. Sip cocktails at the private bar and enjoy time in the "man cave," a haven for all things masculine.
• Nevada Ballet Theatre – Enjoy intimate "pop-up" performances by the brilliant Nevada Ballet Theatre, the state's largest professional ballet company and dance academy. Featuring talented dancers performing their vast repertoire of styles, this will be a performance you won't soon forget.
• Spa & Salon Vdara – Vdara Hotel & Spa will offer complimentary hand massages, exciting prizes and special resort discounts at its "mini spa".
• Gallery Row – CityCenter's featured gallery artists Dale Chihuly, Rodney Lough Jr. and Richard MacDonald will present mini galleries of their spectacular works.
• Michael Shulman – Las Vegas social maven Michael Shulman will serve as the evening's master of ceremonies as well as provide high-energy DJ stylings, adding a new level of fun to the evening's events.
• smartwater hydration lounge – Take a break from shopping and enjoy complimentary ice-cold smartwater® served by stylish smartwater® brand ambassadors in a chic lounge area with picture-perfect views of the main stage.
The Gifts Project Announces New Investor and a Partnership with eBay on Social Shopping
GiftsProject logo Israeli statup
» data-medium-file=»https://i0.wp.com/www.vccafe.com/wp-content/uploads/2011/01/Screen-shot-2011-01-20-at-10.02.15-PM.png?fit=202%2C97&ssl=1″ data-large-file=»https://i0.wp.com/www.vccafe.com/wp-content/uploads/2011/01/Screen-shot-2011-01-20-at-10.02.15-PM.png?fit=202%2C97&ssl=1″ title=»The Gifts Project logo» src=»https://i0.wp.com/www.vccafe.com/wp-content/uploads/2011/01/Screen-shot-2011-01-20-at-10.02.15-PM.png?resize=202%2C97″ alt=»GiftsProject logo Israeli statup» width=»202″ height=»97″ data-recalc-dims=»1″ />The Gifts Project, a social commerce platform, has been making quite a few headlines recently. The company raised $1 million in seed from Gemini and a few days later, European VC Index Ventures was mysteriously added to its investors page. The terms of the additional funding were not disclosed. Today, the Gifts Project announced a partnership with eBay, in which the e-commerce giant will host the Gift Project's 'white label' application, which enables users to set up their own Group Gift pages on eBay. invite friends to participate in the process of selecting a gift, splitting the cost and spreading the word on the group purchase through social networks.
New social shopping experience in eBay in partnership with the Gifts Project, an Israeli startup.
Another interesting feature added by the Gifts Project is Group Gifts Analytics, a reporting system for e-commerce sites that are interested in embedding the social commerce 'app' provided by the company. The company is currently taking applications for pilot clients using an online form at the bottom of this page. (Tip for GP: create a separate page for the form rather than a javascript pop up!)
The video below sums up the Gift Project's White Label solution well:
The Gifts Project is run by Ron Gura and Maya Gura, brother and wife of Eyal Gura who co-founded Picscout and PicApp, and also serves as an angel investor in the company.
Wednesday 02 February 2011
Android Market Gets Love: In-App Purchases & Web Store (Yay!)
Author: Ivanov Konstantin Source: Intomobile Translation by: Paul Smith
Whilst a lot of the attention at today's Google event was given over to Honeycomb there were some more important developments (in my eyes at least) taking place in the Android Market.
For one thing Google are implementing in-app purchases. I can't begin to describe just how great this will be for the Android Market because it has the potential to breathe a whole new lease of life into the system. The Android Market might be the second biggest app store with over 200,000 apps, but it has been the notoriously poor relation to Apple's App Store when it comes to customers buying lots of apps. To put it another way, if devs are earning more from Apple's platform why focus on Android? In-app purchases could help to re-address that imbalance and give devs more reason to pay Android some attention.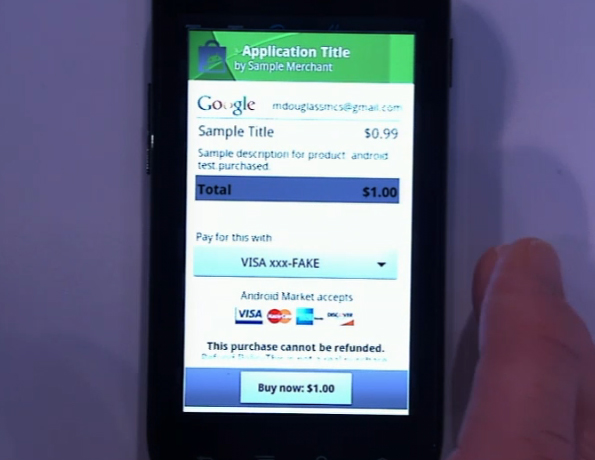 Payment options listed include VISA and American Express. Neither PayPal or Google Checkout were listed, but it would seem like sheer madness if they weren't included too.
The other big change coming to the Market is the launch of a web based version of the Market. Huzzah for that! It's not like people haven't been asking for this for . oh since the dawn of time, well ok maybe not quite that long, but long enough.
Why is this important? Well think about it, browsing through the Market on your device to find apps isn't exactly a satisfying experience, you have hundreds of thousands of apps to get through on a relatively small screen. Sure it works when you know the app you're looking for, but for general browsing it's not ideal. Enter the web based store, which lends itself to more general browsing and app discovery on a nice big desktop display.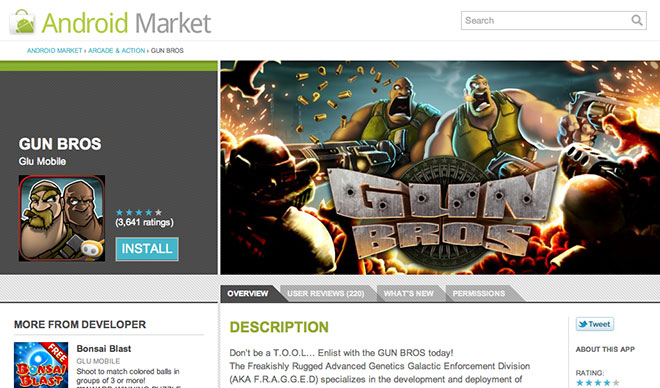 It's another avenue for devs to promote their apps through and like in-app purchases makes Android that wee bit more appealing for them. Each app listed on the web store will have a barcode for you to scan with your phone or you can just purchase it straight from the web store if you prefer and the app automatically whizzes along to your phone.
| | | |
| --- | --- | --- |
| Rating: | | |
Video: Hands-On With Honeycomb
Author: Ivanov Konstantin Source: IntoMobile Translation by: Paul Smith
IntoMobile managed to get some hands on time with the Xoom running Honeycomb at Google's Android event earlier today. I'm not going to say too much here other than to say that the guys at IntoMobile seemed pretty impressed with Honeycomb. The video is a fair length, almost 13 minutes and covers quite a range on the device so go check it out and see for yourself.
| | | |
| --- | --- | --- |
| Rating: | | |
Video: 'Think Beyond' Teaser
Author: Serge Novikov Source: Palm Blog Translation by: Paul Smith
HP are gearing up for their webOS event next week with a teaser video for whatever it is they'll be showing off having been released.
It's a pretty short video and doesn't really tell us very much other than whatever the device is it will have curved corners, a few buttons and a charging connector. Hardly revelatory stuff. The whole idea around the event is the phrase 'Think Beyond' so predictably the speculation has already begun with some good money being put on the video showing glimpses of a tablet device.
You can hazard your own guess after watching the video for yourself: